Managed Learning & Development Services.
Continuous learning and development is a concept in professional development where employees are given the opportunity and being stimulated to learn while they work. It is ensuring that your employees upgrade their skills and abilities to perform well in their jobs. This applies to your employees, but also to the organization.
Nowadays organizing learning and development is more important than ever, but it's also time-consuming, labor intensive and specialistic. At Talent International we have over 20 years of experience in developing people in/and organizations. We provide, develop or co-create training courses, we purchase courses, coach, conduct assessments, you name it.
We are happy to use our experiences to support your organization in the field of learning and development. This way you can fully focus on your business and we arrange everything related to the development of your employees.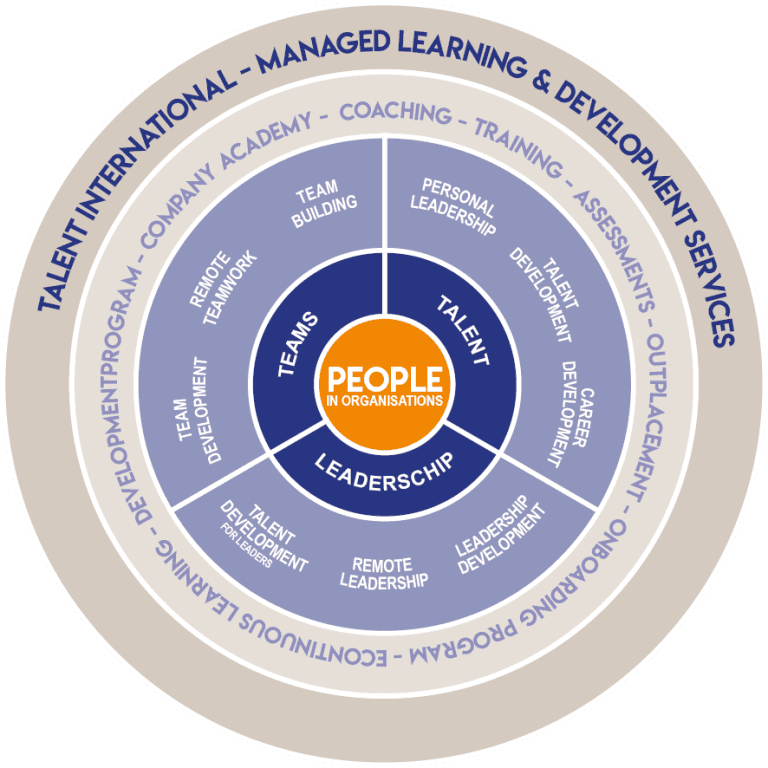 In a VUCA (Volatile, Uncertain, Complex, Ambiguous) world It is more important than ever that your employees continuously learn and develop. Finding the right training, education or coaching and planning for it, is time consuming. You also want to keep track of the quality of learning & development and your training budgets.
By choosing Talent International's Managed Learning & Development Services, you decide for yourself which parts of Learning & Development you outsource.
We provide you with great learning and development tools for your employees and relieve you of handling and organizing. You decide for yourself what you do or do not want to include in your Managed Learning & Development Services.
 Options are:
Setting up and managing your company academy
Supervising training and/or coaching processes
Onboarding programs for new employees
Talent development programs
Life-long learning
Taking assessments and providing feedback
Purchasing education and training
Action learning
Employer branding – focus on good employership
Managing training budgets
Managed Learning & Development Services from Talent International is bespoke.
Do you want to work on the sustainable development of your employees, please contact us. We are happy to discuss the possibilities with you.